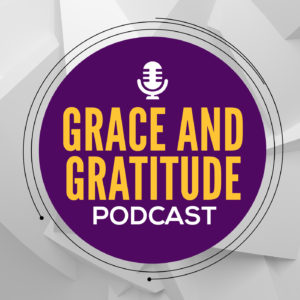 In this day and age, how do you escape the busyness trap of this world and how do you deal with feelings of "not being good enough" and other negative emotions like guilt, shame, doubt and more...
In this episode of Grace and Gratitude Podcast, Jenn Anderson, the Founder of The Arena Coaching, explains why it is important to respond to life instead of reacting to it. She also shares some valuable tips on how you can claim back your life by slowing down and being mindful.
If you feel some tension or stress in your life right now or maybe you simply want to relax, stay tuned and you'll  learn self-compassion tips and nurturing words to soothe and comfort you... 
More about Jenn Anderson
Jennifer is a Leadership Coach with a focus on Personal Leadership and Emotional Resilience.
She is an officially certified Daring WayTM facilitator having studied with Dr. Brené Brown and her team throughout 2016.
Founder of 'The Arena Coaching', Jennifer is also a facilitator, speaker, and mentor.
Jennifer currently resides in Brisbane, Australia. In her spare time, you will find her exploring the world around her, creating, discovering spiritual rituals and traditions, spending quality time with her husband and two dogs, or whipping up adventures of the
culinary kind for her loved ones.
- Certified Daring WayTM Facilitator (CDWF)
- ICF (International Coach Federation) Member + 2017 Queensland Leadership Team
- Real Education Coach and Leadership Program - Certified Level 5 Coach
What we talked about…
How The Arena Coaching came to be [1:22]
Personal Leadership and Emotional Resiliency [6:36]
Responding to life instead of reacting to it [9:29]
Slowing down and taking a break [10:54]
The importance of being mindful and paying attention [11:32]
The greatest lessons Jenn learned from Dr. Brene Brown [13:06]
The Self-Compassion whispers [15:31]
The difference between self-compassion whispers and affirmations [17:30]
Gratitude tips and gratitude habits [19:39]
What is grace and gratitude? [21:25]
How to add more gratitude, joy, love and meaning in your life...
"Don't be in a hurry. Take each moment as it comes. Life is a journey and not a destination. Slow down and enjoy every moment of it.
Enjoy being who you really are and just take it moment by moment." - Jenn Anderson
Get in touch with Jenn Anderson...
www.thearenacoaching.com
info@thearenacoaching.com
Thank you so much for listening to my episode today!
If you have 30 seconds, please go to iTunes and rate this Podcast. It would mean the world to me and the people I have interviewed. Also, your rating will help us make this podcast visible to as many people as possible. Together, let us spread gratitude, joy, love and purpose.
If you haven't done it yet and if you are using an iPhone, SUBSCRIBE to my podcast on iTunes so you never miss an episode ever!
If you are using an Android phone, download the free app called Stitcher and subscribe to my podcast there.
In grace and gratitude,
Vebs
P.S.
I love hearing from you. If something in this podcast resonated or if you would like to email me some feedback and people or topics you would like to hear on my podcast please do so at gratefulandjoyfulsoul@gmail.com
For more information
Visit: www.vebsdominguez.com
Facebook: Vebs Dominguez
Instagram: @vebsdominguez
Music Attribution: Corporate (Success) by Scott Holmes, Corporate (Uplifting) by Scott Holmes